News from Barnimer Land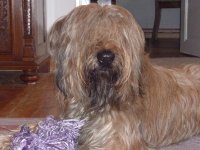 Herzogin (Duchess) returned to finally stay with us.
Meanwhile we moved to Mecklenburg, but the name Barnimer Land will stay.
Stay tuned to our Weblog.
We and our dogs
We live on a homestead in Mecklenburg. Our kennel was founded in Barnim, north of Berlin. It continues to bear the name "From the Barnimer Land".
Our dogs live with us in the spacious farmhouse. The outdoor area offers much room for the ones to play and plenty of work for the others - that's how things are divided in life.
The training of our dogs begins already at the age of ten weeks in a near puppy school. A puppy should learn to behave properly in contact with other dogs of different age and with unknown persons - the sooner the better. In addition, each walk, each visit to a restaurant and each train journey are part of the education. Our dogs learn to accompany us safely in almost every situation in life. Training for exhibitions is important part of the program with our dogs, but also here we remain modest and do not aim at exaggerated perfection.
In 2005 we started with breeding. We are members of the German Briard club (BCD).
Balou, der Schulbegleithund
Die Lübecker Nachrichten berichten in ihrer Internetausgabe über Balou (Geburtsname Barbarossa, hier bei seinem letzten Besuch bei uns im Jahr 2012), der seine Ausbildung zum Schulhund vor einer Weile abgeschlossen hat. Nun wirkt er mit aller Freundlichkeit, Geduld und Nervenstärke, die zur Rasse gehören, am Unterricht in einer Förderschule mit. Bei den Kindern ist er außerordentlich beliebt, wie man auf den Bildern erkennen kann.
Wir freuen uns mit Ulrike, die an einer Schule unterrichtet, wo man Unterrichtsbegleithunde schätzt. Wir sind ihr dankbar, daß sie aus Balou einen Hund mit einem Job gemacht hat, und sind sehr stolz auf diesen tollen Rüden aus unserem Wurf von 2007.
News & stories from Barnimer Land
The Briard
The Briard (Berger de Brie) is a French shepherd's dog. The breed is spread mainly across France, the rest of Europe and the USA. The first written standard dates from late 19th century.
As a shepherd dog the Briard in his history had both guarding and protective duties. From this fact the main characteristics of the Briard are derived. He is robust, fast and durable. Motion makes him visible pleasure. The Briard is a working dog and needs tasks that also demand his intelligence. He can and will learn a lot.
In his nature the Briard is self-confident, independent and persistent. He has a balanced and peaceful character and responds to other persons or unknown things neither aggressive nor timid, but with watchful restraint, as it corresponds to the determination of the race.
The Briard belongs in the home, to the family pride where he needs a firm position in the hierarchy. He loves his people and will do everything to ensure they are satisfied with him. He must understand, of course, what his people expect, or he does what he believes himself to be right. For the right mix of consistency and tolerance in education, he gives his people his whole heart.