News from Barnimer Land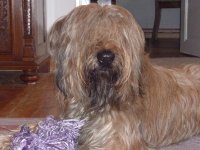 Herzogin (Duchess) returned to finally stay with us.
Meanwhile we moved to Mecklenburg, but the name Barnimer Land will stay.
Stay tuned to our Weblog.
Nos chiens et nous
Nous habitons dans le district de Barnim, au nord de Berlin.
Nos chiens vivent dans la maison avec nous : nous partageons le rez-de-chaussée avec eux, tandis que nous nous sommes réservés les étages supérieurs. Les 2000 m² de jardin offrent un grand espace de jeux pour les uns et beaucoup de travail pour les autres - ça s'appelle la "juste" répartition des tâches... ainsi va la vie! Petra a installé son bureau dans une annexe de la maison. Aussi, nos chiens ne reste jamais seuls bien longtemps. Mais, ils ont quand même appris à rester calmes et tranquilles lorsqu'ils sont seuls quelques heures.
Nous commençons à éduquer nos chiens dès qu'ils ont 10 semaines en les emmenant à l'école des chiots tout près d'ici. Le plus tôt possible, un chiot doit apprendre à se comporter correctement lorsqu'il est en contact avec d'autres chiens de différents âges et avec des personnes inconnues. En plus, chaque balade, chaque repas au restaurant et chaque voyage en train font partie de l'éducation. Nos chiens apprennent à nous accompagner en toute sécurité dans presque toutes les situations de la vie. La formation pour les expositions est une partie importante du programme de nos chiens, mais nous savons rester modestes et nous ne visons pas une perfection exagérée.
En 2005, nous avons commencé l'élevage. Nous sommes membres du Club Allemand des Briards (BCD).
Balou, der Schulbegleithund
Die Lübecker Nachrichten berichten in ihrer Internetausgabe über Balou (Geburtsname Barbarossa, hier bei seinem letzten Besuch bei uns im Jahr 2012), der seine Ausbildung zum Schulhund vor einer Weile abgeschlossen hat. Nun wirkt er mit aller Freundlichkeit, Geduld und Nervenstärke, die zur Rasse gehören, am Unterricht in einer Förderschule mit. Bei den Kindern ist er außerordentlich beliebt, wie man auf den Bildern erkennen kann.
Wir freuen uns mit Ulrike, die an einer Schule unterrichtet, wo man Unterrichtsbegleithunde schätzt. Wir sind ihr dankbar, daß sie aus Balou einen Hund mit einem Job gemacht hat, und sind sehr stolz auf diesen tollen Rüden aus unserem Wurf von 2007.
News & stories from Barnimer Land
Le Briard
The Briard (Berger de Brie) is a French shepherd's dog. The breed is spread mainly across France, the rest of Europe and the USA. The first written standard dates from late 19th century.
As a shepherd dog the Briard in his history had both guarding and protective duties. From this fact the main characteristics of the Briard are derived. He is robust, fast and durable. Motion makes him visible pleasure. The Briard is a working dog and needs tasks that also demand his intelligence. He can and will learn a lot.
In his nature the Briard is self-confident, independent and persistent. He has a balanced and peaceful character and responds to other persons or unknown things neither aggressive nor timid, but with watchful restraint, as it corresponds to the determination of the race.
The Briard belongs in the home, to the family pride where he needs a firm position in the hierarchy. He loves his people and will do everything to ensure they are satisfied with him. He must understand, of course, what his people expect, or he does what he believes himself to be right. For the right mix of consistency and tolerance in education, he gives his people his whole heart.